RAGE AGAINST THE MACHINE
The Battle of. . .Oh Shit! We Lost Our Singer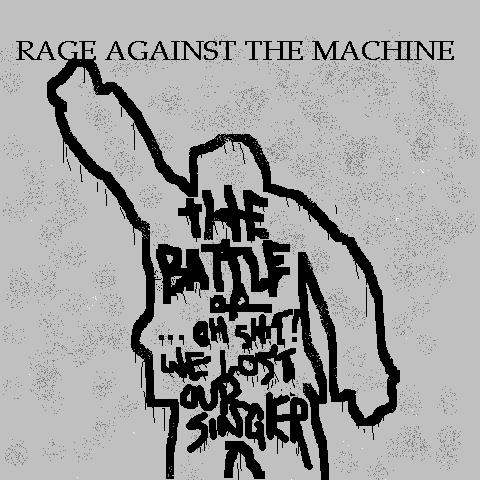 TRACKS INCLUDE:
"GONNA BOMBTRACK"
"RENEGADES OF FUCKED"
"RUINING THE NAME OF"
"GUERILLA BANKRUPCY"
"PESTIFY"
"SETTLE FOR MEDIOCRITY"
"FISTFUL OF CHRIS CORNELL"
"TAKE THE ROCHA BACK"
"FANBASE REBELLION"
and...
"HEY, I'M SMART, I WENT TO HARVARD
AND
I HANG OUT WITH VINCE VAUGHN AND JON FAVREAU"
(MORELLO guitar solo)
Do not miss...
HIDDEN PRE-ADVERTISED BONUS TRACKS
"THE GHOST OF JOHN LARROQUETTE" (MARKIE POST COVER)
"THE IN-FIGHTING BAND"
BUY IT TODAY FOR ONLY
$18.99!!!
Sure, we reject the American capitalist system.
The revolution must be financed.
And we're spending all our money on communist workclothes that serve no practical purpose --
since we play music and live out our wildest dreams for a living.
And don't check out Zach de la Rocha's solo album,
scheduled for release on October 29, 2001.
It's capitalist. Yeah, that's it. Capitalist.
This album contains material that may not actually exist. OK, This album does not actually exist. Duh.
If you thought this was funny, listen to a show, the writing is much stronger there.
And if you hated this, listen to a show, the writing is much stronger there.