PHOTOS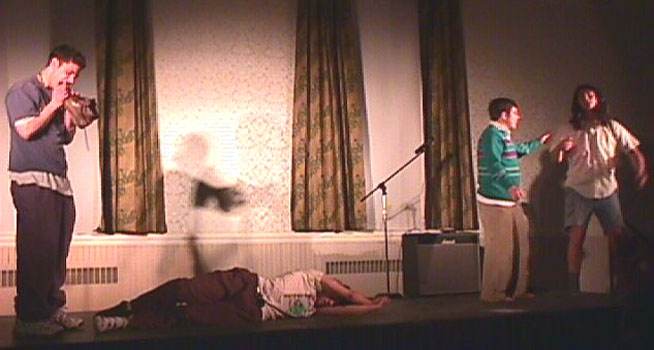 Check out our ugly mugs.
Pictured above: Eric Moneypenny (eating shoe), Anthony Deptula (laying on the floor), Michael Busch (yelling at Jimmy Schurman)
and Jimmy Schurman (dealing with Michael Busch yelling at him).
Photos probably by Seetha Ravimandalam unless otherwise noted.
We hope to add our digital photos from the first month or so of recording soon, but here's some that should
whet your appetite until then. That's such a weird word..."whet".
Trebekan Freedom Concert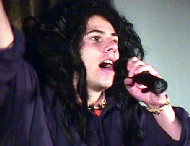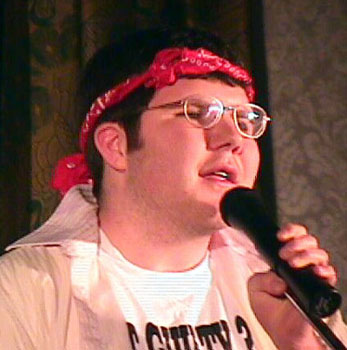 Eric Moneypenny (as former Rage Against the Machine singer Zach de la Rocha) and Michael Busch,
calling for the release of Jeopardy! host Alex Trebek from Chinese oppressors in the campus's first ever
"Free Trebek" Rally -- The Trebekan Freedom Concert.
It's a long story.
Improv Set at "Comedy Buffet" -- April 18, 2001
Jimmy Schurman, Eric Moneypenny, Anthony Deptula, and Michael Busch
taking suggestions from the audience, and preparing for requisite wackiness.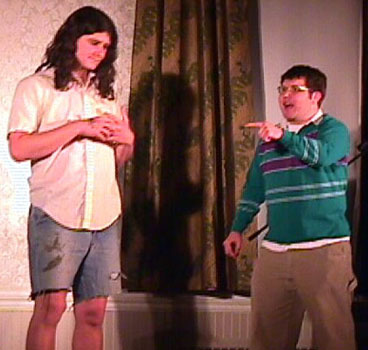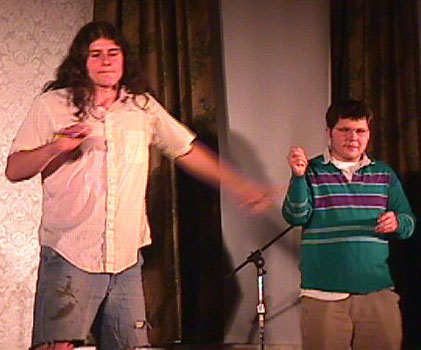 Michael yelling at Jimmy some more in the first one.
Improvising a scene in the style of "The Golden Girls" in the second.
Mike Busch's Betty White impression is regarded as legendary at Ohio University.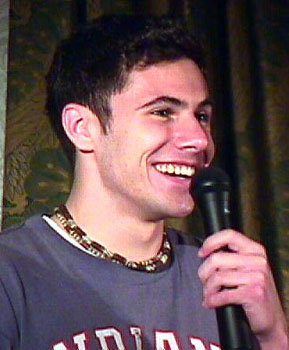 Eric Moneypenny doing a little stand-up that night. He does that from time to time.