MORE DRUGS.
Pfizer and Warner-Lambert announce new over-the-counter products.
By Dr. Ralph Anyirflohr
Morris Plains, NJ- In time for the beginning of the cold and flu season, Warner-Lambert Health, along with its parent company, Pfizer, have announced new upper-respiratory/therapeutic care products ready for widespread over-the-counter release in Fall 2001. The makers of Sudafed, Halls, and Benadryl have been looking to corner the market on overall human well-being for quite sometime, and announced all-new products to the media last Wednesday. The new drugs are expected to be among the most comprehensive multi-symptom remedies available in stores to date.
They include: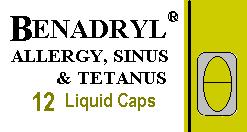 BENADRYL® ALLERGY, SINUS & TETANUS. The first liquid capsule on the market to relieve allergies, alleviate sinus pressure, and get rid of that nasty and aggressive tetanus -- although if you get tetanus, it probably won't be your first guess.
MAJOR INDICATIONS AND WARNINGS: Not to be used in lieu of tetanus shots.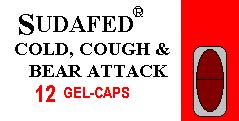 SUDAFED® COLD, COUGH & BEAR ATTACK. From the makers of Sudafed Cold & Cough comes Sudafed Cold, Cough & Bear Attack. Product claims to soothe symptoms of common cold and cough, but also preventative safety measure from attacks by wild bears. Tests showed that the average sick person's chances of being attacked by a vicious grizzly, black, or spectacled bear (when in mountain forest areas) dropped from 2.3 to nearly 1.4%.
MAJOR INDICATIONS AND WARNINGS: Not to be used with an MAO inhibitor, or if you have hid sandwiches anywhere nearby.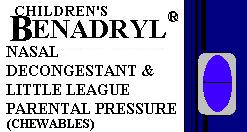 CHILDREN'S BENADRYL® NASAL DECONGESTANT & LITTLE LEAGUE PARENTAL PRESSURE CHEWABLES. Product claims to relieve fever, stuffy nose, and keep a children's fathers from embarrassing them at youth sporting events.
MAJOR INDICATIONS AND WARNINGS: If the child's parents consume alcoholic beverages regularly, consult a physician before taking this product.
It remains to be seen how well these products will do on an already crowded self-remedy marketplace, but Pfizer Board of Directors chairman John F. Niblack, Ph.D. expressed excitement. "The overall decline in tetanus, bear attacks, and overly supportive parents is something that we at Pfizer have been looking to contribute toward for a long time", said Dr. Niblack, the board's chair since 1997 after being appointed by musician Huey Lewis. Niblack adds, "We're incredibly proud of these new products. In fact, I've had my wife and son test these three products throughout the winter, they weren't attacked by bears once, and our family room smells like a family room again -- but of course, I don't see my son much anymore.". The price of Pfizer stock remained steady after the news at 44.87.
-Dr. Ralph Anyirflohr is The Shaft Sounds Off!'s in-house veterinarian and penmanship tutor. His columns appear as articles, but he does no real reporting. He cuts-and-pastes articles from The Associated Press, changing every third word with a thesaurus.