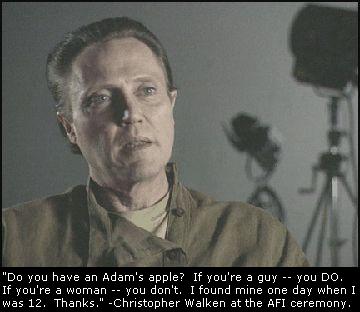 CHRISTOPHER WALKEN TOPS AFI'S LIST
OF "100 CREEPIEST ACTORS"
by Jack Shanks
LOS ANGELES, CA --
The American Film Institute, known for its "100 Greatest Movies" and
"100 Greatest Actors" lists, announced its "100 Creepiest Actors" list last night. Narrowly beating out Steve Buscemi for the top spot is Christopher Walken,
star of such classics as "Blast
From the Past," "Mouse Hunt," and "The Prophecy II." Rounding out the top five are Gary Oldman, Willem Dafoe, and that guy from "Full Metal Jacket" who killed himself after blowing away the drill sergeant.
Not everyone in Hollywood agreed with the AFI's rankings. "Buscemi got robbed," said Ben Affleck, a noted expert on Hollywood weirdos since working with Kevin Smith's friends. In an annoying, nasaly rasp, Affleck stated, "He's way freakier than Walken. Just look at those huge, bug eyes. Every time I saw him on the set of "Armageddon," I'd be like, 'Christ! Just push 'em back in already!' He's a freak!" Affleck later changed his mind when someone reminded him that the list is of the creepiest, not most freakish, actors.
Most people who've worked with Christopher Walken agree with the AFI. Tim Burton, who directed Walken in "Sleepy Hollow" and "Batman Returns," said, "Yeah, that guy even gives me the creeps, and I'm Tim Burton."
Walken himself could not be reached for comment, as he was busy unintentionally making the wardrobe lady on the set of his new film uncomfortable.